!Converted with LaTeX2HTML 95 (Thu Jan 19 1995) by Nikos Drakos (nikos@cbl.leeds.ac.uk), CBLU, University of Leeds >
Computer Hardware
Tom Kelliher, CS 102
Apr. 13, 1998
Announcements: Project groups, quiz on Friday.
From last time:
Finished and published home pages.
Outline:
Shopping for a computer.

A computer, defined. PC components. A computer, itself.
Reading assignment:
Dave's Guide to Buying a Home Computer. (Definitely read this.)

Introduction to PC Hardware. (Optional.)
Things to consider:
What do I want to do with the computer? Telecommuting? Word processing? Graphical design? Games?

What software do I need?

Personal productivity: word processing, spreadsheet, presentation graphics.

Reference: encyclopedia.

Internet clients: e-mail, browser.

Personal finance.

PC or Mac?

Where do I buy it?

What else do I need?

Additional software.

Printer, cable, paper, toner/ink.

Monitor.

Power protection.

Removable media ( diskettes).

Can I return it if I don't like it or if it's a ``lemon?''

What about the warranty?

Service and support?

Recent pricing trends.

The Intel premium.
Central Processing Unit (CPU):

Controls all other hardware.

Executes program instructions.

Operates on data.

Memory (RAM)

Holds currently needed programs and data.

If too little, backed up by disk storage.

Input/Output (I/O):

Communication with external world.

Everything else: keyboard, mouse, monitor, printer, network adapter, modem, disk, diskette, ...

Storage: disk holds programs, data until needed. Virtual memory.
Operating systems --- the missing piece: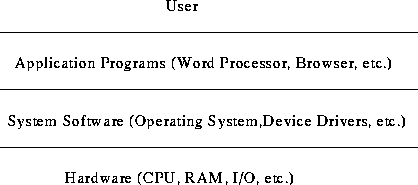 Processor generations: Pentium II, Pentium Pro, Pentium, x486.

Clock speeds.

What about MMX?

Memory: the more the merrier, up to a point.

What's the minimum?

Temporary storage.

When to upgrade: poor performance.

Disk storage: permanent storage.

When to upgrade: can't save work, install new programs.

Disks are delicate.

How much storage do I need?

Video card and monitor.

What size monitor?

Dot pitch, resolution, refresh rate.

How much video memory?

Keyboard and mouse.

CD-ROM and diskette drive.

CD-ROM speed.

The future? DVD and ZIP disks?

Modem or network card.

Printer.

Ink jet or laser? How do they work?

Resolution, speed, colors.

Photographic printers.

Extras: tape backup unit, power protection (surge protector, uninterrupted power supply), scanner, digital camera, TV tuner.
An inside look at a system unit.
A virtual shopping trip: Yahoo. (Packard Bell reviews, Compaq and the sub-$1,000 PC, Gateway 2000, Dell.)
How much software comes with it?
---
Thomas P. Kelliher
Wed Apr 8 10:03:35 EDT 1998
Tom Kelliher